Whether you are a seasoned remote worker or still figuring out how to turn on your microphone, we are all experiencing the effects of COVID-19 on our lives as we adapt to the new-normal of remote communication. In the events industry, many organisers are either postponing large events or going virtual. While online events are nothing new, their value has never been more clear. Virtual events are sustainable, scalable and cost-effective. They are the ultimate tool for entrepreneurs, educators, marketers and business owners who want to reach a global audience.
So, you're looking to take your business events online, but don't know where to start?
Powerful platforms already exist to cater to almost any need, but first you need to define what matters most.
To do this, consider what your purpose is. Are you running a class, selling a product, connecting with clients or training your staff? What do you need to achieve this? Do you require two-way or one-way communication? Will attendees be expected to participate? How will you solve their problems? Do you have stakeholders to keep happy, and what do you need to do so? Is your end goal to close a sale, generate leads, inform your audience or collaborate with peers? Will you be charging people to attend? Clearly identify your key objectives to help guide decision-making when choosing the right platform for your business.
The options out there can be overwhelming, so we've done the hard work for you! We've narrowed your search down to five (very different) virtual event platforms: Zoom, Glisser, vFairs, Webex and WebinarJam. Check out our comparison below.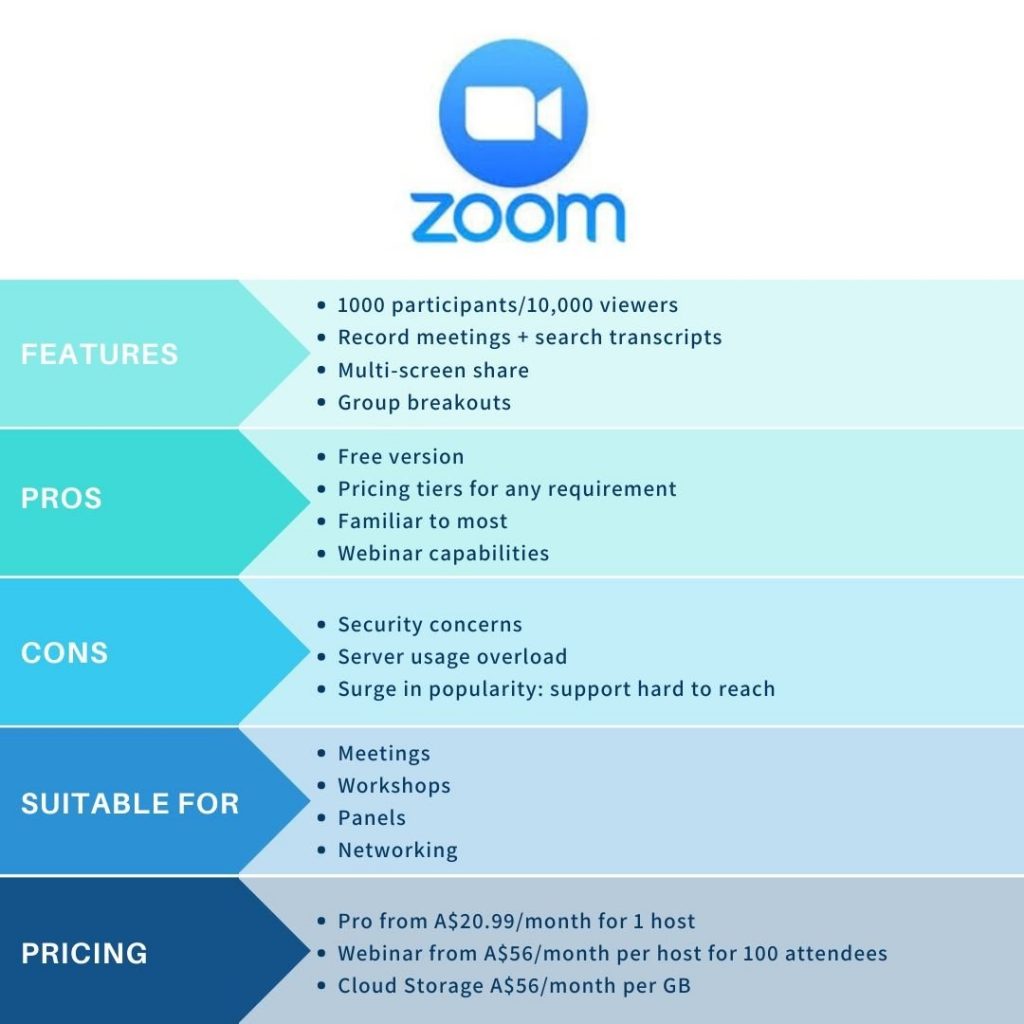 The Run-Down
Zoom is one of the best-known video chat platforms available. It has become a communications mainstay for many small and large businesses around the globe. Zoom has a powerful free version, with even more tools for interactivity, data analytics and accessibility in the pro versions. Zoom is suitable for most event styles, including workshops, panels and networking. Its Video Webinar add-on can host up to 100 presenters for large events, and audiences of up to 10,000. Zoom has tailored solutions for education, healthcare, government and financial sectors. However, alongside a massive user surge since the COVID-19 pandemic, there are mounting privacy concerns. Users are demanding tighter security and data protection measures after many calls were recently targeted by "Zoombombing" pranksters.
The Verdict
Zoom is a great everyday platform, with many useful tools. However, many government and education clients, as well as larger companies, have recently banned employees from using Zoom. While this platform may be great for informal meetings, heavier security measures are needed to protect users.
---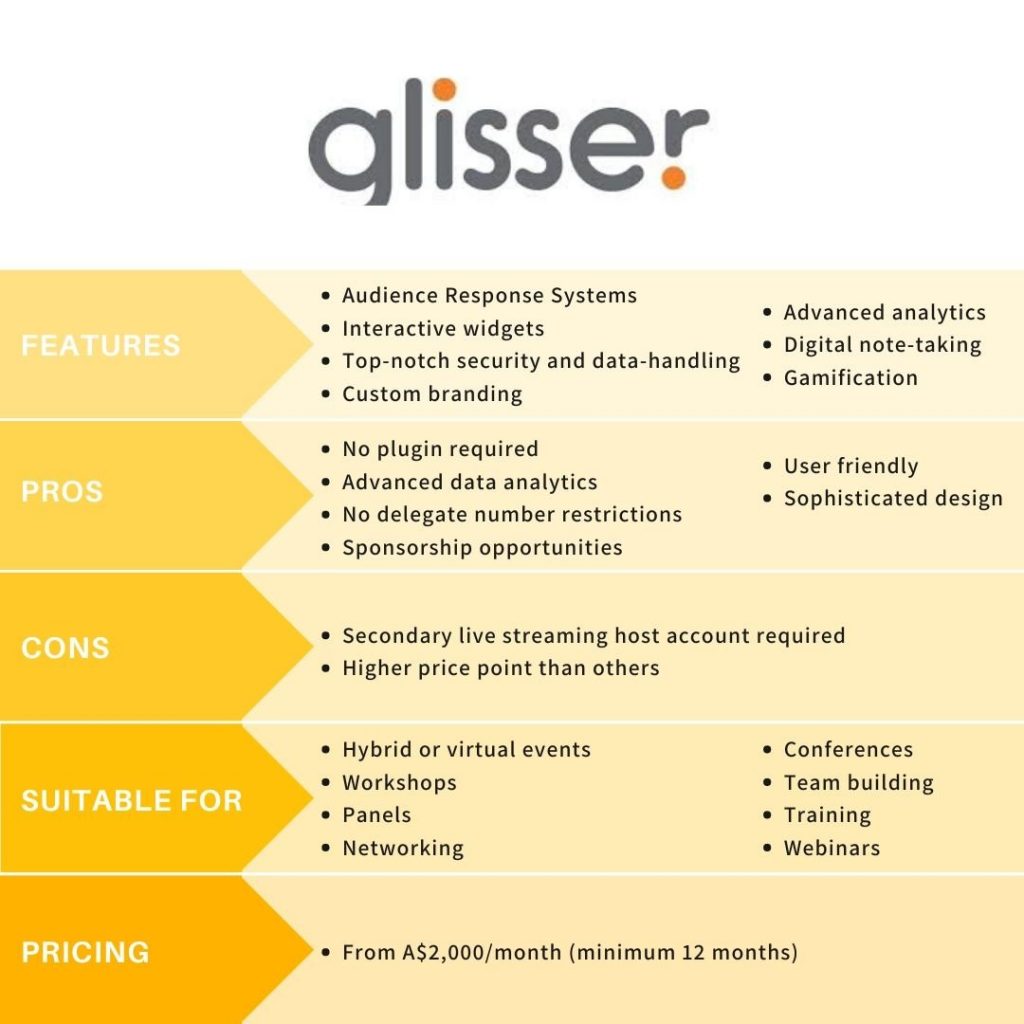 The Run-Down
Glisser's sleek interface and feature-packed offering will appeal to planners of large conferences. There are no restrictions on delegate numbers, no plugins required and advanced data analytics available. Its range of smart audience response systems include slide sharing, live polling, digital Q&A, virtual lottery and social walls. Custom branding and gamification features encourage engagement with sponsors, and top-notch security and data-handling puts planners at ease. However, Glisser may not be a cost-effective option for those working with tight event budgets.
The Verdict
Glisser is a top-notch conferencing powerhouse. It is ideal for larger hybrid or virtual events, with an emphasis on measuring attendee and sponsor engagement. However, the price point may not be justifiable for small events.
---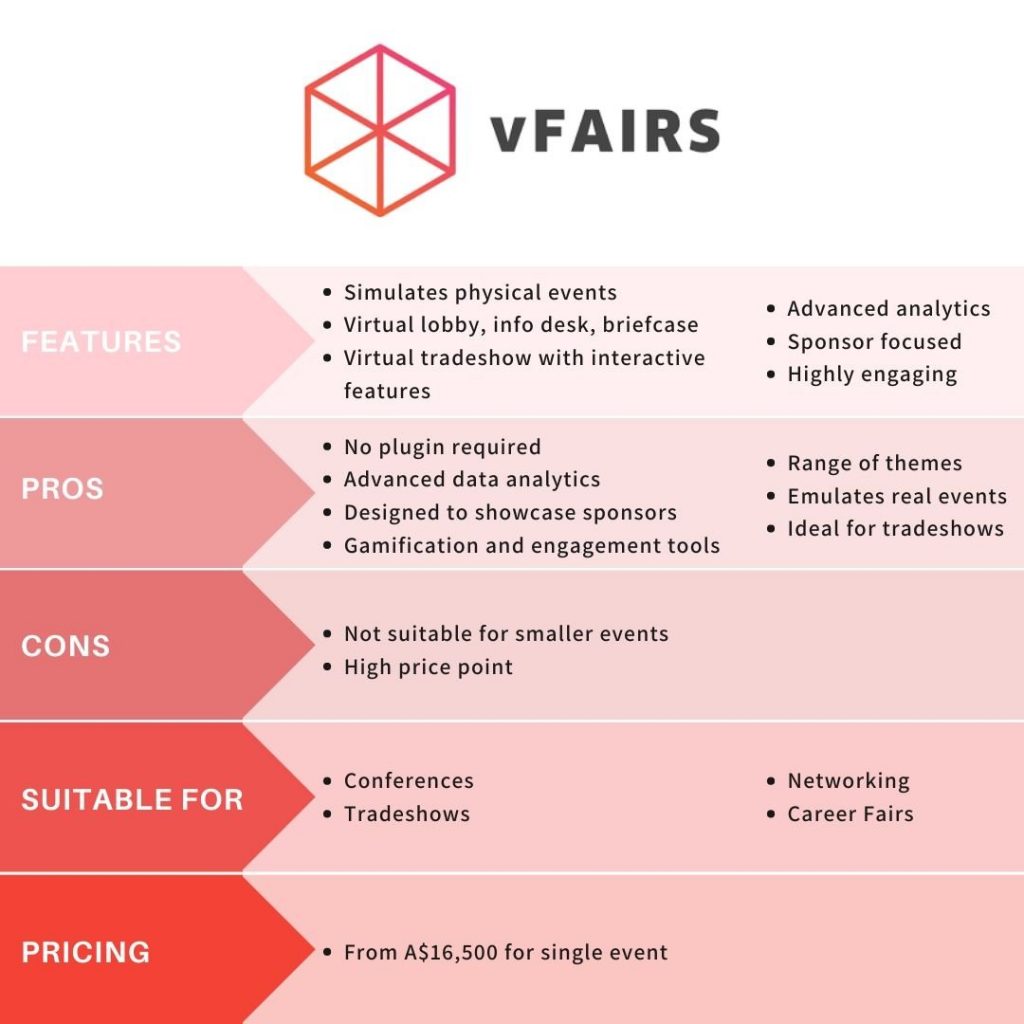 The Run-Down
For a virtual experience that replicates a real-life event, vFairs is an eye-catching simulation platform bound to keep exhibitors happy. With custom themes, virtual swag, and plenty of engagement tools, vFairs will breathe life into your conference, trade show or career fair. There are discounted plans for multiple events, but vFairs is much more pricey than standard video conferencing platforms. There are also extra costs for customising your event.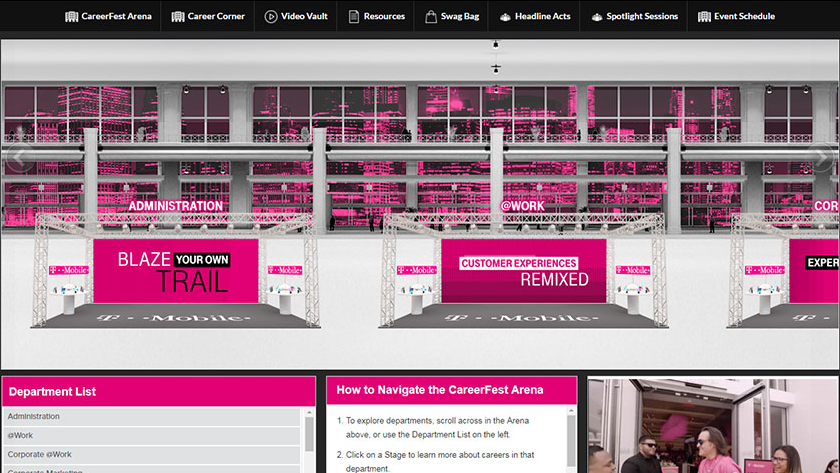 The Verdict
vFairs is captivating and highly engaging. This platform is ideal for B2B or B2C tradeshows. However, it is an expensive option for conferences with smaller budgets and less of an emphasis on exhibitions.
---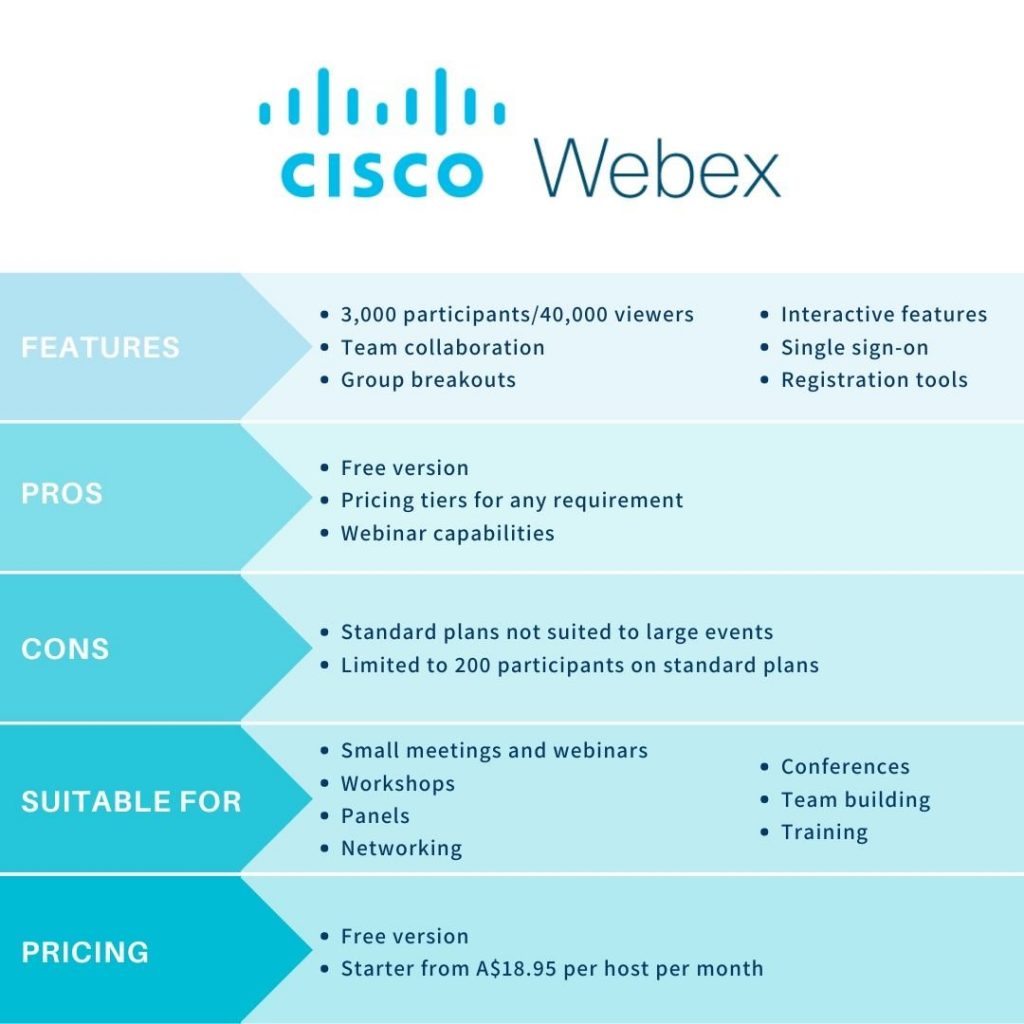 ---
WebinarJam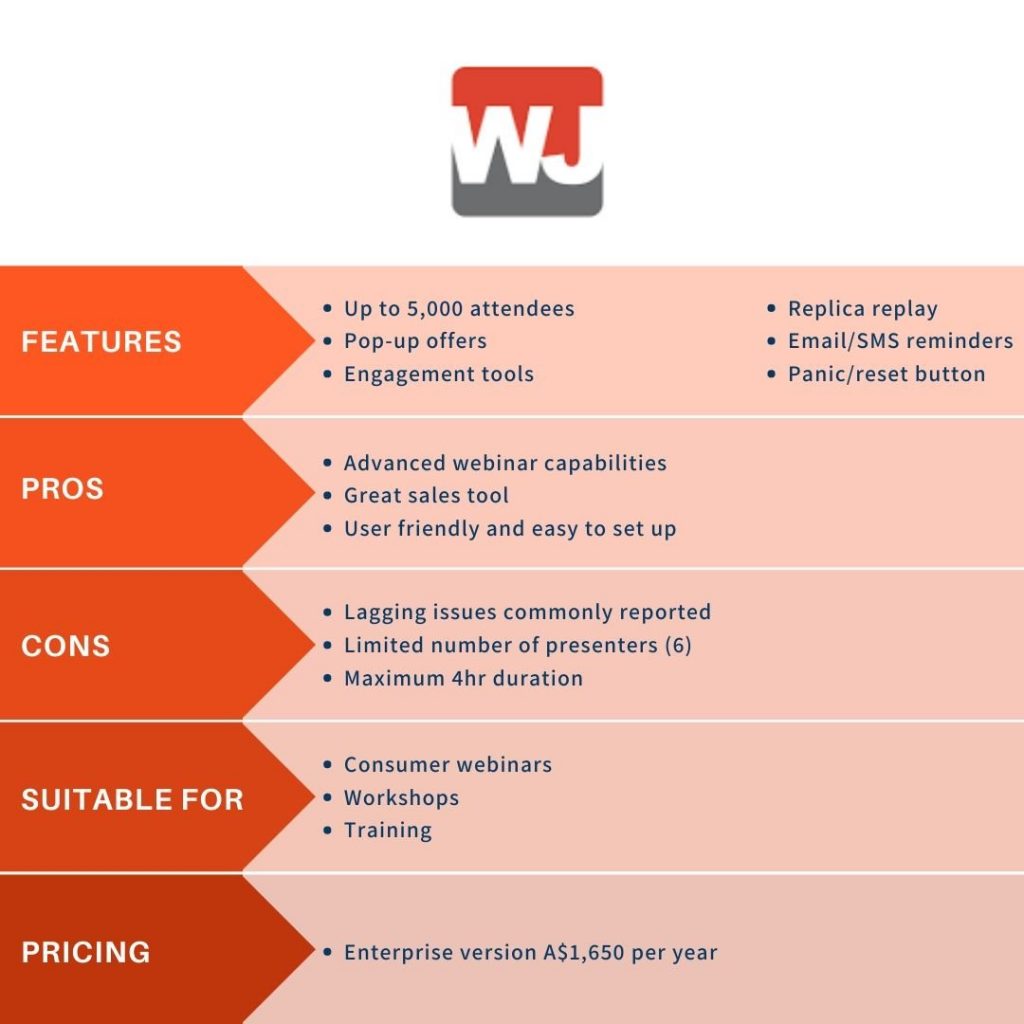 The Run-Down
If you are looking to run consumer webinars, then look no further. WebinarJam is a fantastic platform designed to increase your sales potential. It makes creating webinars simple. Hosts can load pop-up offers, polling and Q&A to keep their audience active. WebinarJam caters for up to 5,000 attendees. Hosts can choose to run the entire event live or record the webinar with the Replica Replay feature. Hosts will also love the Panic Button, which resets the entire webinar audience in the event of a technical glitch. However, there are limits on the maximum number of presenters (6), and a 4-hour session limit. This may not suit larger workshops or webinars.
The Verdict
WebinarJam is a powerful sales tool, best suited to consumer webinars under 4 hours. It is user-friendly and has many powerful features.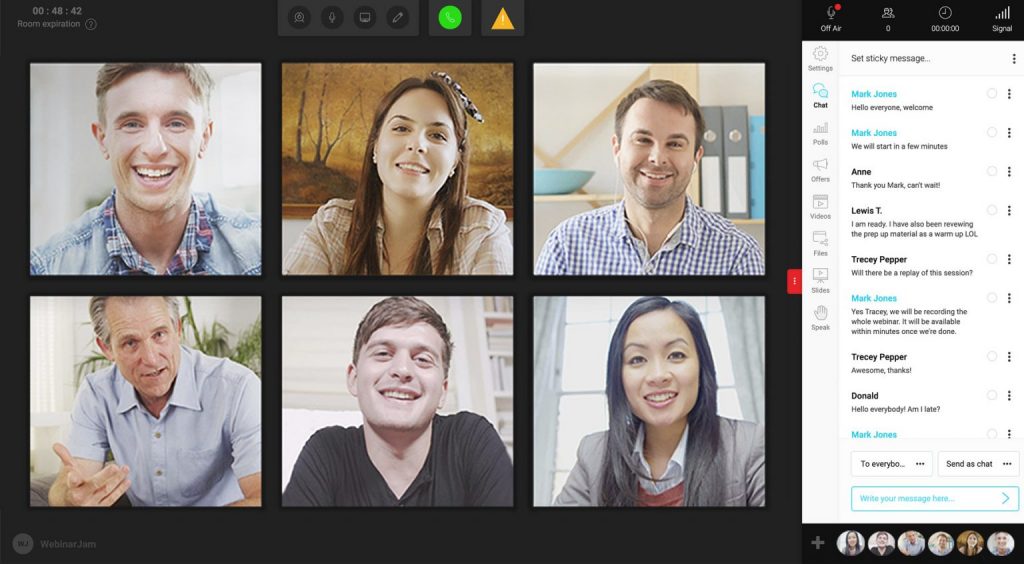 ---
These are just some of the many different platforms available for online events in 2020. Remember, your event goals will dictate what is best for you. Platforms are just one aspect of virtual event planning. Consult a professional conference organiser to help you select, establish and manage your virtual events. They can save you time and resources so you can focus on what you do best.
Let Dot Dash help you go virtual!
Don't let lockdowns hold your business down. Take your training, conference, trade show, networking or course online with a little help from Dot Dash. Virtual events unlock a world of opportunities for growing your audience, measuring engagement, promoting sponsors, and tracking conversions.
We offer complete virtual event management services to suit your needs. We can help with:
Reviewing your business or project
Recommending platforms to suit your needs
Program development
Speaker and sponsor management
Ticket sales and promotion
Registration management
Technical support
Operational support
Get in touch today to discuss how we can help you go virtual!